What is GoHealth BC?
GoHealth BC is an exciting opportunity for nurses across Canada to take control of their career, helping underserved communities in BC, experiencing rural and remote nursing, with increased flexibility over their own schedule!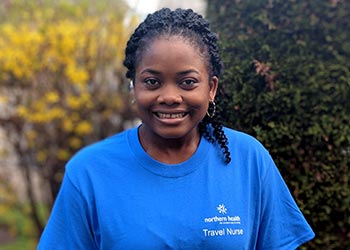 GoHealth BC is a collaborative effort between Northern Health, Interior Health, Island Health, the Ministry of Health and the British Columbia Nurses Union. The partnership features a creative, innovative, and flexible approach to serving rural and remote communities. This program allows nurses to expand their scope of professional practice while taking on new experiences!
We are currently offering permanent part-time and casual positions to RNs, RPNs and LPNs with a minimum of two years of acute, long-term care, or specialty experience.
Where can I work?
GoHealth BC currently provides focused support to the following communities:
Northern Health
Chetwynd
Daajing Giids (pronounced "daw-jean geeds", formerly the Village of Queen Charlotte)
Dawson Creek
Dease Lake
Fort St. James
Fort St. John
Hazelton
Mackenzie
Masset
Prince George
Prince Rupert
Stewart
Terrace
Tumbler Ridge
Interior Health
Grand Forks
Kamloops (Royal Inland Hospital)
Island Health
As GoHealth BC grows, additional communities in all three health authorities will be added as focus communities. 
Why join our team?
We support work-life balance by using a self-scheduling model.
You schedule your shifts, where and when you want to work, and your preferred departments.
Your schedule is built six times per year in two months blocks.
Your travel hours count towards your FTE.
GoHealth BC employees get to explore BC while working.
You get the opportunity to meet and network with other healthcare professionals and travel nurses.
GoHealth BC employees don't need to uproot or move! You can live anywhere in Canada and be part of our team.
Part-time GoHealth BC employees receive medical and dental benefits, accrue sick time and paid vacation leave, and contribute to the Municipal Pension Plan (MPP). You receive all the benefits of traditional unionized employment with the additional benefit of travel and self-scheduling.  
Travel and accommodation
The GoHealth BC provides all your flights, car rental or NH fleet vehicles, ferries, or a mileage equivalency.
A $55.00 per day meal per diem is provided.
All accommodation is provided, typically with a kitchenette.
Family members (spouses, children) may be able to accompany GoHealth BC employees to some locations determined on a case-by-case basis. Expenses of family member are not covered by GoHealth BC.
Testimonials
"I saw an opportunity with GoHealth BC and thought it sounded kind of neat. I wanted to still be working with the health authority, but also traveling around. GoHealth BC was awesome – it gave me my first exposure to more rural sites. I was able to travel and try out Fort Nelson and Prince Rupert and see some smaller sites and how they operate. Doing that inspired me to look at other opportunities in more rural centers." - Brady Irving, former Travel Nurse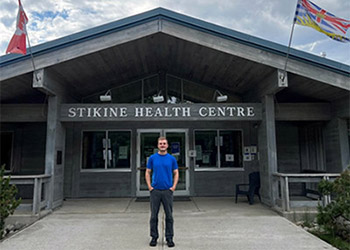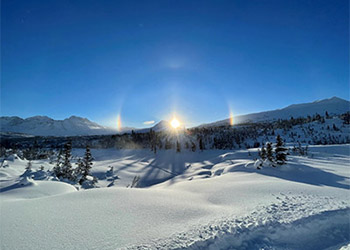 Ready to join our team? Want to learn more?
If you're interested in GoHealth BC, contact a Northern Health recruiter at NHJobs@northernhealth.ca and they will assist in answering questions and connect you with a program manager. 
Check out our current postings at expectmore.northernhealth.ca. Choose "Travel" from the Job Location drop down menu.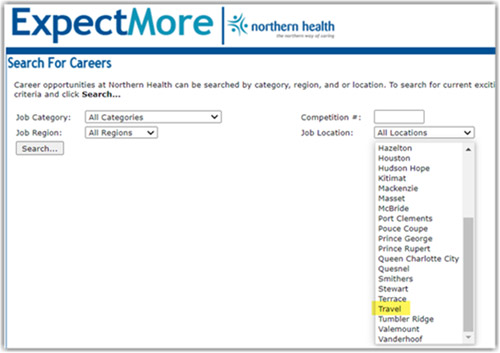 We look forward to welcoming you to our Team.