What is the travel nurse program?
The travel nurse program is a collaborative effort between Northern Health and the British Columbia Nurse Union which strives to provide innovative solutions to serve rural and remote communities and provide opportunities to nurses to expand their scope by discovering new experiences in nursing.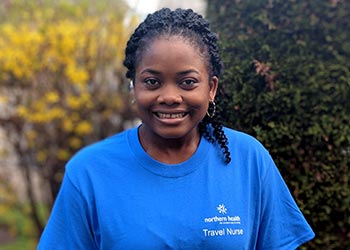 Reasons to be a travel nurse with Northern Health
Explore new professional opportunities
Discover new places and communities while being paid
Get extra time off when you're home
Access $5,000 annually in professional development funds
Meet new people
Gain great rural and remote skills that can be transferred to many other clinical settings
Connect with a network of travel nurses in the region
Travel
Travel communities are based on operations' needs. Every effort will be made to give you six weeks' notice before you're assigned to a travel community. NH will pay travel costs in accordance with local policy, including a paid travel day of 10.5 hours (11.5 hours' work) for each direction of travel. 10.5 hours will be paid regardless of whether the travel day is shorter or longer due to unforeseen circumstances (weather, construction, etc.). Per NH policy, a meal per diem will be provided on travel days.
Where available, a NH fleet vehicle or rental car will also be provided to you during your stay in the community.
Accommodation and meals
During your stay in the travel location, accommodation will be provided. Wherever possible, a kitchenette will be included.
Spouse, guests or family joining in the accommodation may be considered on a case by case basis depending on the type of accommodation available.
Where to start
Connect with a recruiter today! Please email nhjobs@northernhealth.ca to learn more.
We will arrange a commitment-free consultation, answering any questions you may have about travel nursing in Northern BC.
Based on your skill-set and availability, we will let you know of opportunities that are a good match, while advising of any remaining requirements.
Available positions