What is the Travel Nurse Program?
The Travel Nurse Program is a collaborative effort between Northern Health and the British Columbia Nurse Union which strives to provide innovative solutions to rural and remote health care shortages. The pool consists full time, part time, and causal employees.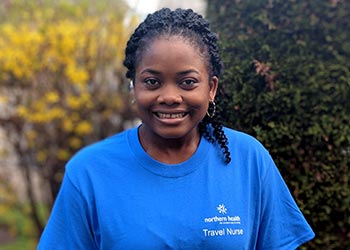 Goals:
Increase health care services in a way that supports our strategic priorities
Increase the number of permanent positions within NH to staff our facilities
Reduce the costs associated with:

Overtime shifts
Relief not found shift
Agency nurse costs
Six reasons to be a travel nurse with Northern Health:
Explore new professional opportunities
Get to see new places and communities while being paid
Get extra time off when you're home
Access $5,000 annually in professional development funds
Meet new people
Gain great rural and remote skills that can be transferred to many other clinical settings
Travel
Travel communities are based on operations' needs. Every effort will be made to give you six weeks' notice before you're assigned to a travel community. NH will pay travel costs in accordance with local policy, including a paid travel day of 10.5 hours (11.5 hours' work) for each direction of travel. 10.5 hours will be paid regardless of whether the travel day is shorter or longer due to unforeseen circumstances (weather, construction, etc.). Per NH policy, a meal per diem will be provided on travel days.
A NH fleet vehicle or rental car will also be provided to you during your stay in the community.
Accommodation & meals
During your stay in the travel location, accommodation will be provided. Wherever possible, a kitchenette will be included.
Spouse, guests or family joining in the accommodation may be considered on a case by case basis depending on the type of accommodation available.