What is the Travel Resource Program?
This program is a collaborative effort between Northern Health and the British Columbia Nurses Union. The Partnership recognizes creativity, innovation, and flexibility while serving rural and remote communities. Nurses are supported to expand their scope of professional practice while discovering new experiences in nursing.
We are currently offering permanent positions to RNs and LPNs with a minimum of two years acute, long term care, or specialty experience.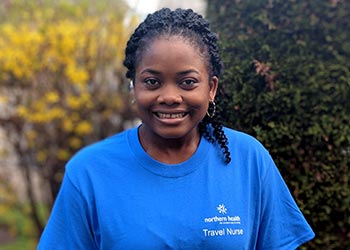 Why join our team?
We support your work-life balance by using a self scheduling model.
You schedule your shifts, where you want to work, and your preferred departments.
Your schedule is built 6x per year in 2 months blocks
Travel hours count toward your FTE
Explore Northern BC while working
Meet other healthcare professionals and travel nurses
Live anywhere in Canada and be part of our team
Travel and Accommodation
The Travel Resource Program provides all your flights, car rental or NH fleet vehicles, ferries or a mileage equivalency.
A $55.00 per day meal per diem is provided
All accommodation is provided, typically with a kitchenette
Family members (spouses, children) may be able to accompany nurses to some locations determined on a case-by-case basis. Expenses of family member are not covered by the Travel Resource Pool.
Next Steps
Contact one of our recruiters at NHJobs@northernhealth.ca who will assist in answering questions and connect you with the program manager. Check out our current postings at expectmore.northernhealth.ca.
We look forward to welcoming you to our Team.