Community
Dawson Creek (pop. 12,000) is known as the "Mile Zero City," as it marks the start of the Alaska Highway.
The city is home to a campus of Northern Lights College, and serves as a major centre for about 60,000 people in the surrounding area.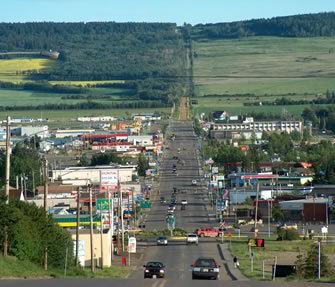 Local industry includes agriculture, tourism, oil and gas, and forestry.
Amenities:
Parks, Museums and Art Galleries
Recreational sport leagues for all ages
Facilities

Dawson Creek and District Hospital is a full service facility:
26 acute-care beds
15 regional adult psychiatric beds
Emergency department
ICU – high acuity only, stabilize and transfer
Medical and surgical inpatient care and day surgery
Respiratory therapy
Rehabilitation therapy
General surgery
Obstetrics and Gynecology Laboratory
Medical Imaging (including CT)
Cancer care
Visiting specialists in urology, dermatology, and pediatrics.
Orthopedic, and trauma centre for Northeastern BC
Other health care facilities in the city:
Dawson Creek Health Unit
Rotary Manor
General Family Practice Offices
Mile Zero Walk-in Clinic
Methadone/Suboxone clinic
Local Resources