Community
Fort St. John (pop. 19,000) is known as "The Energetic City" due to its resource base of oil, natural gas, forestry and agriculture. Are you considering a move? Check out the Move Up Here video and Brochure.
Activities in and near the city include:
Visiting the new cultural centre and library, which includes theatre and art space
Golfing
Hiking and camping
Watching wildlife and birds
Fishing and boating
Back-country adventure tours
Horseback riding
Cross-country skiing
Snowmobiling, and dog-sledding
Using the facilities at the Pomeroy Sport Centre , which include two NHL-sized ice rinks, an Olympic-sized speed-skating oval, and an indoor year-round walking track
Fort St. John is home to a campus of Northern Lights College.
Facilities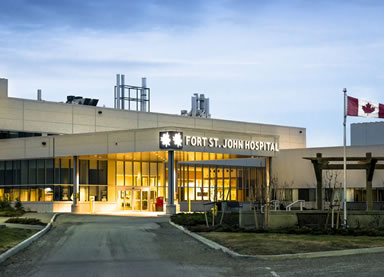 Fort St. John Hospital provides:
44 acute-care beds
124 residential care beds in Peace Villa, the adjoining residential care facility
Endoscopy suite, two state-of-the-art operating rooms plus procedure room
Ambulatory clinics, including cancer clinics and hemodialysis
Medical and surgical inpatient rooms (40 beds)
3 intensive care units
Minor surgeries
We have 7 single maternity rooms for labour, delivery and post-partum
Fort St. John Health Unit:
Public Health
Home Care Nursing
Home Support
Community rehabilitation
Nutrition and social worker services
Environmental health
Audiology
Dental Health