Community
Fraser Lake (pop. 1,300) is known as the "Swan Capital of the World" for the hundreds of trumpeter swans which migrate there each November. Fraser Lake is a playground for water activities and fishing, where anglers can try their luck in the Fraser and Francois Lakes, or the Nautley or Stellako Rivers. Hiking trails begin right at the community's doorstep. Cabins and resorts on the surrounding lakes draw many to enjoy the beautiful scenery, nature and beaches. Fraser Lake's main industries are mining and forestry.
Activities: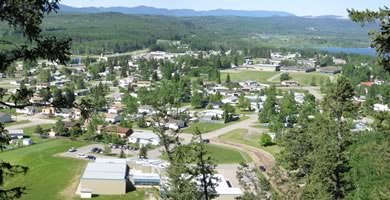 Events:
Fraser Lake has numerous community events and festivals which draws locals and tourists alike and boosts community spirit. They include:
The Fort Fraser Fall Fair, held early in September
Mouse Mountain Days Festival – a family event with games for children, fireworks, barbecue picnic lunches and local baking.
White Swan Music Festival, held in June at White Swan Park
Facilities
Fraser Lake Community Health Center is a diagnostic and treatment centre with no in-patient or overnight beds. The Health Centre is open Monday to Friday 8:30am - 5:00pm. The Health Centre serves the population of Fraser Lake, Fort Fraser, Endako and the Nadleh and Stellat'en First Nations communities.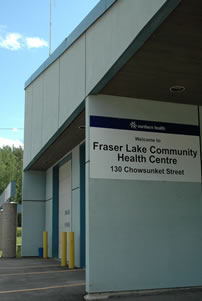 The Services at Fraser Lake Community Health Center include:
4 Outpatient bays
Emergency stabilization and transfer
Diagnostic imaging
Laboratory
Community Palliative Care support
Other facility services include:
Primary Care Nursing
Mental Health and Substance Use
Dietician
Occupational therapy 
Outreach clinics to surrounding communities
BC Ambulance
Hospital Staff:
Full and part time physicians
Nurse practitioner
Nursing staff
Visiting specialists
Patients requiring further care are referred to St. John Hospital in Vanderhoof or the University Hospital of Northern BC in Prince George.
Local Resources