Community
Kitimat is located on BC's north coast at the head of Douglas Channel, 90km from open water. The population is about 8,131 (2016 Census). It's a planned community designed using garden city principles.
The Kitimat area offers many opportunities to enjoy the outdoors: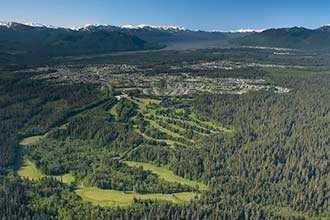 Hiking
Fishing (fresh water and ocean, including salmon)
Golf course (18 Hole)
Lakes, forests and mountains
Skiing (downhill and cross-country)
Snowmobiling
Soccer fields
Skate, bike and board park
Shooting range
Kitimat's amenities include:
A hospital and health services
A total of 4 public schools (two high, two elementary and a private school offering kindergarten to Grade 9)
Public transit
Supermarkets and a shopping mall
Sports facilities, including an aquatic centre
The Terrace-Kitimat airport, which offers regular daily flights to Vancouver, Prince George and Calgary
Kitimat Valley Institute provides skills training for Kitimat's businesses, industries and institutions.
Post-secondary education is available at Coast Mountain College in Terrace which is a 60km drive north, and at the University of Northern BC in Prince George, BC.
Northwestern British Columbia (including the Kitimat area), is currently experiencing increased economic development and industrial investment relating to pipelines, hydro transmission, and liquid natural gas. 
Housing is affordable and property taxes are low compared to the rest of BC. Public transit serves the community and is available for those travelling to Terrace as well. Kitimat offers a welcoming, community-oriented atmosphere for professionals and their families; affordable real estate; and a mild four-season climate, for more info see Tourism Kitimat.
Facilities
Kitimat General Hospital and Health Centre provides a variety of services: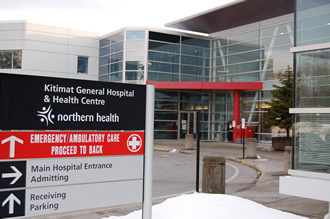 20-bed acute-care unit, including 2 maternity beds
Regional orthopedic centre
Emergency department
Physiotherapy
Radiology
Laboratory
Diabetes and chronic disease management
Outpatient chemotherapy clinic
Public Health team
Palliative Care nurse consultant
Regular rotation of visiting specialists in internal medicine, urology, otorhinolaryngology (ENT), dermatology, neurology, ophthalmology, and radiology.
Community services:
Home support
Home Nursing Care
Long-term Care case management
The hospital site is also home to a 36-bed residential and complex care facility, Mountain View Lodge.
Local Resources